Image masking is a procedure that helps in removing the background using Photoshop software for soft edge surface photographs. There are several types of techniques of doing masking to take out the image from its context and place in another background. Clipping Path is also used for the remove background of a picture from its original background and uses them in other frameworks where customers want. Sometimes this is too much complicated to remove background from images, and at that time, advanced Photoshop techniques are utilised to make it happens. Similarly, Photoshop masking technique is used to omit the background and leave the image as like as it is in a different environment.
Image masking is one of the most useful techniques for background removal. Only an expert and qualified graphic designer can do clipping masking with accuracy. All this masking effect gives the old photos a new look and increases the attractiveness to the viewers. If you need to apply photo masking effects for your images, you can do it by yours. Anyone can do this with the help of advanced Photoshop tools like magic eraser tool, background eraser tool and should apply the colour separation techniques. Handling all these processes are might be complicated or also difficult for anyone if he has no clear concept to manage the Photoshop tools correctly. It also looks ugly when image masking technique not successfully applied for photographs and only for this your photography business going down day by day. However, It is not a significant problem; you can hire a professional graphic designing firm and talk with your complete requirements to them. Qualified designers will tack care of your photographs and helps to make your photos more beautiful to your clients.
Who needs to Apply Photoshop Image Masking Service?
Usually, Image masking is a technique of Photoshop image editing services. Images, especially those related to models or different product photos with soft surface then photo masking technique is applied.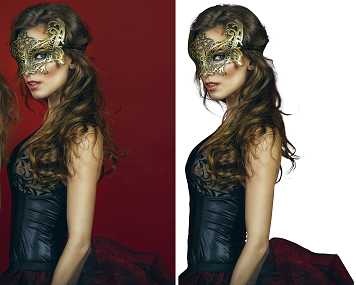 Anyone badly needs to remove background from pictures with hair or fur surface at that situation only image masking service can help you. Photoshop masking technique helps to get a more precise and perfect result than clipping path services.
Image masking helps to organise a decent and endless look for all of the product photographs to your valuable clients or viewers. Even if you have a large number of your pictures and you are worried about this, professional designers are there to help you. Expert graphic designers can help you with their skilled image masking techniques on what matters with your images. It also gets more value to the clients and your photography or retail business too.
When Should Image Masking Technique Apply or Not?
Sometimes Photographers shoot the model photographs into a grey background, but publishers need it into another background, for this case, image masking is essential to solving this with perfection. Since only the Photoshop image masking service can give 100% perfect result to isolate the background. So far we know clipping path used for background removal service, but this is not sufficient to take every hair, wool, fur, fleece, etc. Here Photoshop Image Masking technique is only one right process to remove hair, fur or wool in details. That is why Image masking is one of the most critical tasks in photo editing services. On the other hand, you need a simple background removal services with sharp edge images then only clipping path service is suitable for this.
How to Do Image Masking Using Photoshop?
The image masking process is not an easy matter that every graphic designer can do it without adequate knowledge about image masking. Only those graphic designers can do masking better who has years of experience in Photoshop software as well as doing the mask. The most effective way to get a more precise concept using some Photoshop Image Masking Tutorial. Fortunately, we are very proud that we have expert's professional graphic designer who has been doing masking for ten years. That is why it brings world-class background removal service, and on feedback, we are receiving thanks, the gift from most of our clients. This Thanksgiving gift inspires us to give the best effort for image masking in a future where quantity is increasing.
Get Image Masking Services at Clipping Path Outsource:
At Clipping Path Outsource, both clipping path and image masking process is for the same purpose of background removal service for the pictures. Although these techniques of removing background seem similar, image masking carries more importance, especially for hair or fur of the model images.
Clipping Path Outsource provides several types of image editing services professionally since 2012. These are clipping path service, image masking service, and image manipulation service, image retouching service, drop shadow service, and raster to vector service. Among them, image masking service is one of the complex tasks which we are providing with the best result. Many types of publishing companies are getting the benefit to make their brochure design, magazine design, leaflet design or their printing purpose.

Finally, if you need image masking service, then don't delay to chat with our representative or send an email to get the benefit from us.