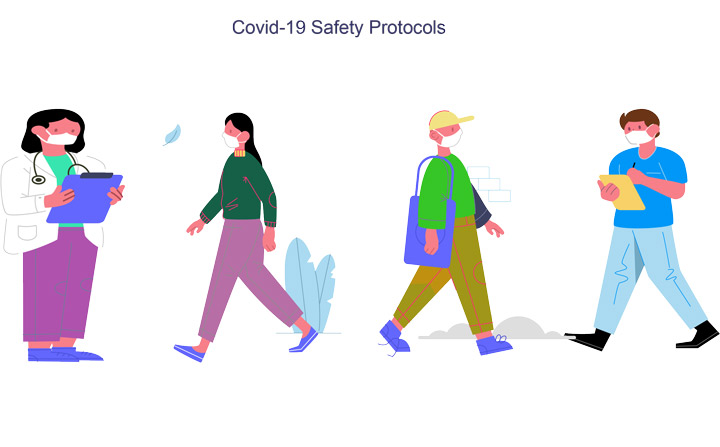 We are all worried that one thing at a time is corona virus disease (COVID-19). This one is not only our country's problem but also a global problem. We need to know how we can prevent it or keep ourselves safe without worrying about it. If we are silent in fear, we will not be able to fight against this virus; if we all know how to keep ourselves safe without fear, we will be overcome this virus.
Covid-19 is an infectious disease. Symptoms of the virus include mild to moderate respiratory illnesses that return to normal. Besides, patients with cardiovascular disease, diabetes, chronic respiratory disease, and cancer are more likely to be infected.
In this pandemic situation, all the business owner who wants to work with stuff. The first step is how to give protection to the stuff and create some safety protocol. Today I will briefly explain what should be done and our safety protocol (CPO Experts) in this challenging COVID time.
1. CPO Experts Safety Protocols
We maintain a 1.5-meter distance between one employee to another.
Everyone must be wearing a mask, and without a mask, they can't enter the office.
Ensure all the members wash their hands before they sit on the desk.
Every day, our gateman checks all members temperature with a Digital Thermometer.
Forehead machine. If anybody hasn't the average temperature, they can't continue office without showing a negative (COVID-19) test report or immediately we give him leave for take rest.
2. How to Make Secure Place from (COVID-19)
We should be avoided in crowded areas. They are associated with gossipy communication such as fitness classes, night clubs, places of worship, any occasion, etc., where they speak loudly or like heavy shells. We always have to avoid crowded areas where there is a chance of being (COVID-19). Wherever you live in the house, you have to see the air is moving properly. The ventilation system is an essential thing at this time, as well as clean everything regularly.
3. How Can We Protect Ourselves and Save Others from (Covid-19)?
Always maintain the distance between another minimum of 1 meter. Wear a mask. Make sure, your mask is effective as possible. Because an ordinary mask is not sufficient. Always clean your hand when putting your mask on and take off your mask. When you go out, you have to wear a mask properly, that your nose and mouth covered well. Furthermore, when you go outside, you need to wash your hands well and change your clothes after come back, and it is personal safety to do it. Make sure you should avoid crowded places. If you feel your health is not well- take yourself in quarantine, few days stay home, Observe yourself. If you feel troubled, call the doctor (Helpline: +8809666777222) or visit: https://corona.gov.bd/. When we need to meet someone, we must meet outside because the risk of infection is less out, and the risk of disease is higher for other family members when they are indoors.
4. What to Do if anyone has Symptoms of Corona Infection?
The coronavirus has now spread worldwide. It can happen to us at any time, so we have to be careful and go for self-quarantine or self-isolate whenever we have any symptoms. At first, you need to do is call the doctor. Our government has to contact the emergency helpline (999) or local health complex for COVID-19, telling them what to do. COVID-19 flu and regular flu are different. Because of COVID-19, flu symptoms are loss of smell, inability to taste, sometimes feel like muscle pain, hands and feet numbness or tingling, dizziness, confusion, delirium, seizures, and stroke.
5. There is Some Diagnostic Test at Home for COVID-19?
There are two common types of diagnostic tests. One of them is the PCR (Polymerase Chain Reaction) test, and another one is the antigen test for COVID-19. PCR test is a long process, and it makes a time like one week, and the other hand antigen test result gets within a few hours. It gives an accurate and precise result. One of the best aspects of this test is that one can understand before (COVID-19) is related, and only PCR test can only detect the viral RNA presence. Antigen test is cheap compared PCR test. PCR test also needs the experience stuff neither can it not give the correct information about the test. If the patient has time, they can do the PCR test. Otherwise, they can do an antigen diagnostic test.
6. COVID-19 Vaccine
We all know that some countries have been discovered in this vaccine. For example, the United Kingdom uses the Pfizer vaccine for an emergency. But not even all people get it, because Experts say it will take more time to available for ordinary people in our country. So we have to be a little more assertive, and the rules have to be appropriately followed (COVID-19). As long as you don't get the proper medicine for (COVID-19), take medication as per the doctor's advice.
Conclusion:
Everyone needs to be aware of this epidemic. Because the epidemic is becoming more and more frightening day by day, many people have lost their jobs in this pestilence. Many are not finding a way to do it, and we should help poor people as much as we can, those who can't afford their families. We should not panic for fear of this epidemic, and we should be patient and keep our health in order.